Yoga, sunset and mussel route aboard a bateeiro boat sailing the Aldán estuary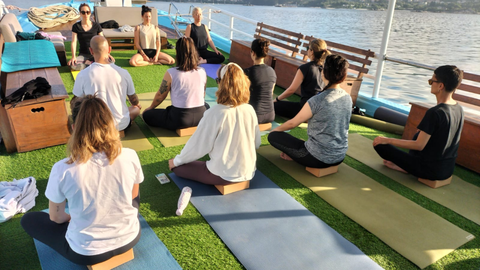 Step aboard O que faltaba, a wooden ship built in 1987, and discover twenty or so beaches and hidden coves with crystal-clear waters, as you sail past lighthouses, caves and other seafaring vessels, with magnificent views of the Ons and Cíes islands
09 ago 2023 . Actualizado a las 18:10 h.
Don't let the summer pass you by without experiencing the wonders of sailing at least once. Sail among mussel rafts out to Punta Couso, at the tip of the Aldán estuary, and take in a lighthouse, a sea cave and, on the horizon, the island of Ons as the sun sets over the Atlantic Ocean. This is one of the routes made by O que faltaba, a bateeiro boat spanning 14 meters that has spent the last five years of its life dedicated to maritime tourism.
«I like to tell people about fishing and the culture surrounding it. I myself run the mussel and sunset route, though we also offer excursions that combine sunset and yoga on board», explains skipper Fito Dacosta.
Notably, it was Fito's father who took this auxiliary vessel on its maiden voyage back in 1987, when it left the Domaio wooden shipwright yard in Moaña.
«The hull is made of oak and pine reinforced with metal, while the engine is the work of Eduardo Barreiros. It spent its life mussel farming from then until 2015, when we sold the mussel rafts».
O que faltaba seemed destined for the scrapyard because iron and fibre vessels are now used for sea work and also the boat had no sale, though ultimately Fito decided to restore the vessel because he had grown very fond of it.
«It can hold 11 people, making it perfect for taking tourists around the estuary and showing them mussel farming industry. It can also be chartered out for parties, or for fishing and diving expeditions», explains the skipper, who made the switch from fishing to tourism and admits that he would never have imagined his life was going to change so much when he used to work in the mussel aquaculture industry.
«I love my work. The best bit is getting to explain our way of life through fishing in all its forms. If you're going to pay five euros for a kilo of mussels in Madrid, I want you to know where they came from», he exclaims.
More than half of his customers are Galicians —often locals celebrating a birthday, a farewell party or some family celebration, or who charter the boat for the day.
«The rest are mainly tourists from all over Spain, although the mussel route is a favourite among Galicians, visitors from Catalonia and Madrid, and also the English. International tourism accounts for around 10%», Dacosta reckons.
The mussel route starts from the port of Aldán, runs along the coast of the parish of O Hío, passing by beaches and caves, before heading out of the estuary to pass by the islands of Cíes and Ons, the Costa da Vela and Cabo do Home and numerous mussel rafts. «I explain how mussels are grown and farmed, offer a tasting of these molluscs paired with Albariño wine, and play traditional Galician music as we head back to port. If we happen to see a bateeiro boat at work, a navalleiro collecting razor clams or fishermen pulling up octopus cages, we might tarry a while to watch them», he says. 
Sunset lasts about two hours from start to finish. At nine o'clock in the evening they leave the port, cross the estuary and arrive at its tip to watch the sun set behind the island of Ons, and between Ons and Cíes.
«Then we head back inside the estuary, watching the sunset from the stern and the night from the bow. It's quite a sight, I can tell you. We put on a tasting of mussels, Albariño wine and crusty bread», adds the skipper.
There are also groups that want to stay for longer and watch the stars, the Perseids meteor shower or the milky seas effect.
«I'm happy to accommodate them because later in the year, around October, we don't tend to get many phone calls. High season is between Easter and September. The boat can be used for pretty much everything, from fashion shoots to filming an advertisement for Celta de Vigo football club», Dacosta proudly proclaims.
The yoga route is something entirely new for us this summer.
«We leave port and look for a calm place to lay anchor. The actual yoga class lasts between 40 and 45 minutes. Then we head further out to watch the sunset and enjoy a tasting of Albariño wine and mussels», explains Dacosta, who says that there is more than enough space on deck for the yoga classes, which are given by an instructor from Vigo.
As there is no marina or dock in Aldán, Fito has to take everyone out in a row boat to the O que faltaba, which he leaves anchored in the middle of the Aldán estuary and its crystalline waters, featuring more than twenty hidden beaches and coves that all but disappear at high tide.
---
---